Club Outings organised for this year so far are:
Sat 29April Carron Valley
Sun was splitting the sky and it was really warm, flat calm for a lot of the day. 6 boat fishers and 4 on the bank. Pretty poor catches for the day, a blank for all the bank fishers and three or four fish in each of the boats. Best fish was a brownie of 1.1/2lb.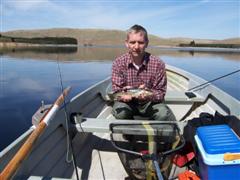 Alan Murray with his first of the day

Sat 20th May Loch Leven (two boats only, no bank fishing)
Lake of Menteith - September