River Calder
The River Calder provides around 5 miles fishing for wild brown trout in the scenic Calder Glen. Salmon have been returning to the river in increasing numbers and a planned fish pass at Bridgend Falls should ensure a healthy stock of migratory fish for the future.
2002 has seen two recorded migratory fish landed, both sea-trout, one at around the two pound mark and the other slightly larger. Our water bailiffs have also reported Salmon and Sea Trout spawning in the redds below the Bridge End Falls. The restoration of the Bridge End Falls is therefore seen as an important part of the clubs future plans. All efforts by the club are being directed to the conservation of all migratory and resident fish and catch and therefore catch and release should be praticed.
The Lochwinnoch Heritage Forum have been the driving force behind the restoration of the Bridge End Falls. Detailed planning permission has been granted and the National Lottery fund, amongst others, have been approached for funding. Hopefully the work will get under way in the summer of 2003.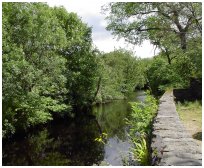 River Calder